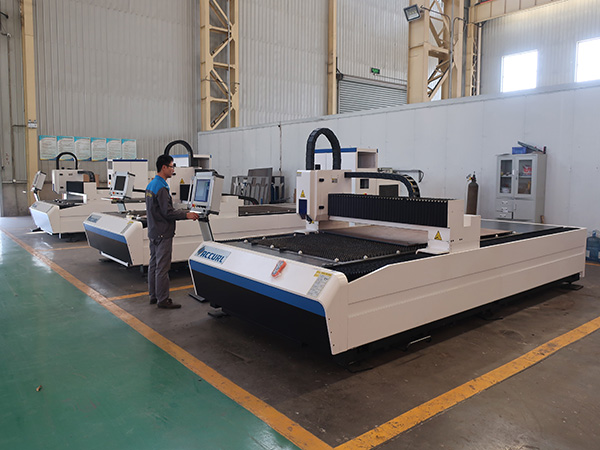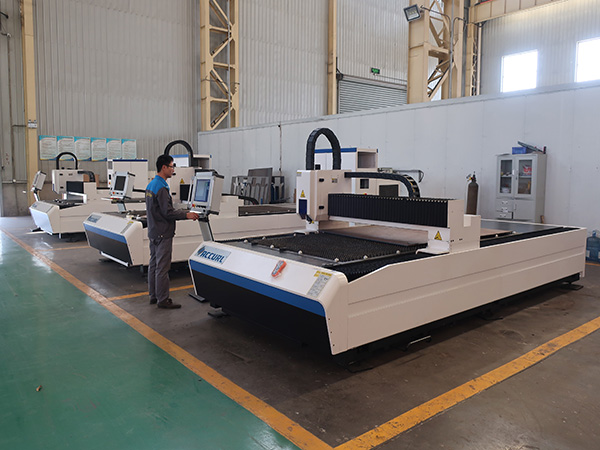 Function Advantages
---
1. Excellent quality of light beam
2. Highly cutting speed: the 2 times by co2 laser cutting machine under the same power.
3. Very high stability and efficiency of photoelectric conversion
4. Very low using cost and maintenance cost
5. Convenient product operation and maintenance
6. Very strong soft optical effects: compact volume and structure
7. Gantry double driving structure, high damping machine tool bed, good rigid,
8.This model adopts imported AC servo system driver and imported transmission system, the moving structure of machine tool adopts imported gear and rack transmission, linear guide track for guiding, ensuring the high speed,high precision and high reliability of equipment.
9. Rack and guide adopt fullly enclosed protective device, which prevents oil free friction movement and dust pollution, enhances using life of transmission parts and ensures the precision of machine tool movement.
10. Professional laser cutting machine, cnc control system, computer operation, can ensure the cutting quality, and more convenient for cutting work.
11. Automatic swiching table configuration, which shortens the standby time, and effectively enhances the working efficiency more than 30%.
12. Fully enclosed protective cover,using safety.(Enclosed Model)
Imported Germany Laser Cutting Head

---
Selection of Germany Laser cutting head brings Z axis servo function. It's servo sensor adopts capacitive sensing sensor monitoring and provide cutting auto focusing features of high sensitivity, stability and fastness. With characteristics, it makes the fixed length cutting head body install optical lenses with different focal lengths so that the focus and the nozzle height can be adjusted flexibly.
---
1)Application Materials:
Amûrên Cuttingê Laser ji bo birrîna metalan bi etivika Zeytûnê, Plateya Mildêl, Sheerta bonelê ya Karbonê, Plerta loelê ya Alloy, Steelapika Springelê ya Bihar, Ironitara Zeytûnê, Zeytûnê Galvanized, Sheiyayê Galvanized, Plateya Aluminium, etivîkek Copper, etelikê Brass, Plateya Bronze, Plateya Zêrîn, Plateka zîv, Plateya Titanium, Sheet Metal, Plate Metal, Tubes û Pipes, etc.
2)Application Industries:
Ew Machines Cutting Fiber-Laser bi gelemperî di hilberandina Billboard, Reklam, Nîşan, Signage, Letterên Metal, Lîterên LED, Wareya Kanîreşê, Nameyên Reklamê, Pêvajoya Metalerta Metal de, Perçeyên Metals û Beşên, Ironware, assaşî, Rack & Cabinetin Processing, Crafts Metal, Art Art Metal, Qutkirina Panelê Elevator, Hardware, Parçeyên Auto, Frame Glasses, Parçeyên Elektronîkî, Navdêr, û hwd.
Agahdariya Bilez
---
Serlêdan: Qirkirina lazer
Itionert: Nû
Laser Tîpa: Laser laser
Materyalê sepandin: Metal
Rêzika birrîn: 0-30 mm
Qada Kirarbûnê: 1300 * 2500mm
Lezgîniya Cutting: 0-40000mm / min
CNC an na: Erê
Mode Cooling: Germbûna hewayê
Control Software: Leetro
Forma Grafîkî Piştgirî: AI, BMP, DST, DWG, DXF, DXP, LAS, PLT
Cihê Origin: Anhui, Chinaîn (Mainland)
Brand Name: accurl
Sertîfîkirin: CE, ISO
Karûbarê piştî firotanê pêşkêşî: Endezyarên li makîneyên karûbarê derveyî peyda dibin
Name:CNC Laser Cutting Machine
Product name: metal fiber laser cutting machines factory
Laser power: 500W / 1000W / 2000W / 3000W
Laser tube: IPG or Raycus fiber laser generator
Keyword: Fabric Laser Cutter
Fonksiyon: Kişandina materyalên metal
Type:Laser Machining
Model: APEX-1325
Rengîn: Blueîn
Working area: 1300mmX2500mm
Xizmetên me
---
1.Gotina 3 salan.
2. Sermiyanê belaş 3 salan.
3.We dê perçeyên xwerû li bihayê ajansa peyda bikin.
4,2 demjimêra karûbarê serhêl, piştgiriya teknîkî ya belaş.
5.Machine berî radestkirinê hatiye sererast kirin, dîskê tevgerê di nav deçkirinê de ye. Heke pirsek din e, pls bi kerema xwe ji min re bêje.
6.We ji bo sazkirinê, karûbarê û karanîna makîneyê û karanîna nermalavê manual û CD (Guiding Videos) hene.
---
Tîpa Laser

Imported Original Fiber Laser
Dirêjbûna Laser
1060nm
Hêza Laser Maximum
500W
1000W
2000W
3000W
4000W

Max Qirika qulbûnê

≤8mm
≤12mm
≤16mm
≤18mm
≤20mm
Serfiraziya Hêzê ya Total
<14KW
<18KW
<22KW
<26KW
<30KW
Working Size
1500X2500mm/1500X3000mm/2000X4000mm
Zûtirbûn.x.x.
0-30m / min (Bi materyal û pîvan ve girêdayî ye)
X, Y, Z Rêzeya Orientation Axîn
≤ 5 0.05 mm / m
X, Y, Z Axîn Pêvek Pêvekirinê
≤ ± 0.03 mm / m
Dirêjahiya xeta min
≤0.15mm
Lezgîniya Rêzeya Bêmayî ya Zêde
120m / min
Rêça ajotinê
Motora servo ya barkirin
Riya veguhestinê
Y-axa bargiraniyê rack ajokarê dualî, X-axîn bi lêdana guleyan ketiye xefikê
Worktable Max Load
1600 KGS
Pergala germbûnê
Germbûna avê
Continous working time
24 Demjimêran
Environment temperature
0-35°C
Hewcedariyên hêzê
380V / 3 Qonax / 50Hz an 60Hz
Power requirements Outer size (L*W*H)
4500x2000x1800mm