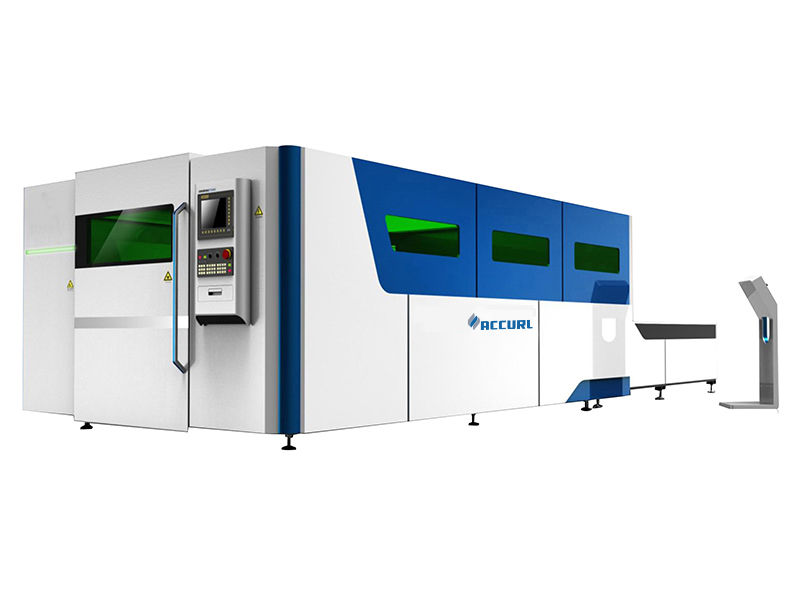 Fiber laser cutting machine features
---
♦The double rack and pinion driving system and imported open-type CNC system enable high processing accuracy and high working efficiency during high speed cutting.
♦ Standard collocation of 500W fiber laser generator and optional 500W 750w, 1000W 2000W IPG or Raycus or Nlight fiber laser generator ensures low operation and maintenance cost.
♦Open structure is easy and convenient for material uploading and unloading.Drawer collecting device makes receiving materials more convenient.
♦Aiming at high speed cutting, we design and manufacture strengthened welded machine body after 2 times of aging process which ensures long-term accuracy and stability of performance.
♦Standard collocation of dual-pressure gas control system of 3 gas sources (high pressure air, nitrogen, oxygen) meets the processing requirement of all kinds of materials. Easy operation and low cost.
♦Standard collocation of automatic nesting software (including material management and optimized processing technology) and database of process parameters is provided for easy operation and simple management.
Agahdariya Bilez
---
Serlêdan: Qirkirina lazer
Itionert: Nû
Laser Tîpa: Laser laser
Materyalê sepandin: Metal
Qirêjiya birrîn: materyal
Navbera birrînê: 1500 * 3000mm
Lezgîniya Cutting: 0-40000mm / min
CNC an na: Erê
Mode Cooling: Germbûna avê
Nermalava Kontrolê: Qedexe
Forma Grafîkî Piştgirî: AI, BMP, DST, DWG, DXF, DXP, LAS, PLT
Sertîfîkirin: CE, ISO
Karûbarê piştî firotanê pêşkêşî: Endezyarên li makîneyên karûbarê derveyî peyda dibin
Product name: XTLASER 500W1000W 2000W 3000W fiber laser cutting machine price
Hêza laser: 2000W
Keyword: Fiber Laser Cutting Machiens
Type: Laser Machining
Fonksiyon: Kişandina materyalên metal
Qada xebatê: 1500mmX3000mm
Cutting materials: Stainless Steel Carbon Steel Etc( Metal Laser Cutting Machine )
Hêza dravê: 380V / 50HZ
Driving system: Japan Yaskawa Servo Motor
Pergala kontrola: Pergala Kontrolkirina Prpfession CNC
| | |
| --- | --- |
| Tîpa Laser | Laser fîjêr |
| Brand Laser | IPG / Raycus |
| Hêza Laser | 500W (750W / 1000W / 2000W optional) |
| Qada xebatê | 1500mmX3000mm 1300x2500mm Optional |
| Tabloya xebatê | Tabloya Karê Paqijkirî |
| Pergala Kontrolê | Kontrola servo ya loop-dagirtî ya PMAC |
| Mode Driving | Rêzika ajotinê ya duwemîn |
| Idle / Leza Diravkirinê | 72m / min / 36m / min |
| Cihbûnê Paqijkirin | 0,05 mm |
| Pergala Parastinê | Parastina dorpêçkirinê |
| Serê Laser | Precitec / Laser Mech / XT Laser |
| Navê min | AC220V 5% 50 / 60Hz / AC380V ± 5% 50 / 60Hz |
| Hêza Total | 7KW ~ 11KW |
| Cihê Jêra | 5.6mX3.2m (maseya sabît) |
| Kombûna Standard | Metal nesting software, dual-pressure gas route of 3 kind gas sources, dynamic focus |
| Nermalav | Nermalava CutMax Laser Cutting Software an nermalava PA8000, Nermalava Nestêkirina Metal |
| Format piştgirî kirin | PLT, DXF, BMP, AI, DST, DWG, etc. |
1) Rakirina birîna lazer a fîberê pêvajoyek zûtirîn e ku ji bo lîtreya zirav.
2) Qalîteya erdê "birêkûpêk" tê wergirtin.
3) Materyalên refleksî yên wekî aluminium, berf û bermayî dikarin bi hêsan werin qut kirin.
4) Mesrefa pêvajoya parçeyan pir kêm e.
5) Kêmasî ji lêçûnên xwedîkirinê re.
6) Mesrefa parçeya xercê kêm e. Dabeşên tenê yên ku hewce ne bêne guheztin ji bo demên dirêj nozzles, seramîk û giyayên parastinê ne. Mesrefên xerc ên din tune.
7) Jiyana Resonator li ser 100,000 demjimêrên xebatê ye.
Serlêdana Hilberê
---
1.Helal çêkirina metal
2. Kabîneya elektrîkê
3. Asûvan
4. Parçeyên otomatîkî
5. Av û hewayê
6. lampsirokên ronahiyê
7. Karîkatur û nîgarê metal
8. Amûrên amûr
9. Reklam
10. Furniture
11. Amûrên kelûmêran
12. Amûrên çistbûnê
13. Amûrên tibî
14. Makîneyên çandinî û daristanî
Fiber Laser Generator

YAG Lamp Pump Laser Generator

CO2 RF Metal Laser Tube

Erk

500W/750W/1000W/2000W/3000W

500W/650W/850W

300W/500W

Avantajên

Excellent laser beam quality, high cutting precision, high cutting speed, high efficient photoelectric conversion rate, low use-cost and maintenance cost, easy operation and convenient maintenance

Compared with fiber laser generator and CO2 RF metal laser tube of the same power, it has lower price, thicker material cutting ability, wider application field and lower one-time investment.

It can cut metal sheets and non-metal materials. Wider range of applicable materials. Adjustable output power. Maintenance free. Easy to operate and convenient to use.

Materyalên Bijare

All kinds of metal sheets and pipes

All kinds of metal sheets and pipes

All kinds of metal sheets and other nonmetal materials

Applicable Industry

Sheet metal, hardware, watches, metal art craft works, etc.

Sheet metal, kitchenware, metal letters and accessories & hardware, etc.

Sheet metal, advertising, furniture and models, etc.
bihayê makîneya qutkirina laser
,
bihayê makîneya barkirina avêtinê ya cnc metal
,
makîneya qutkirina laserî ya mini