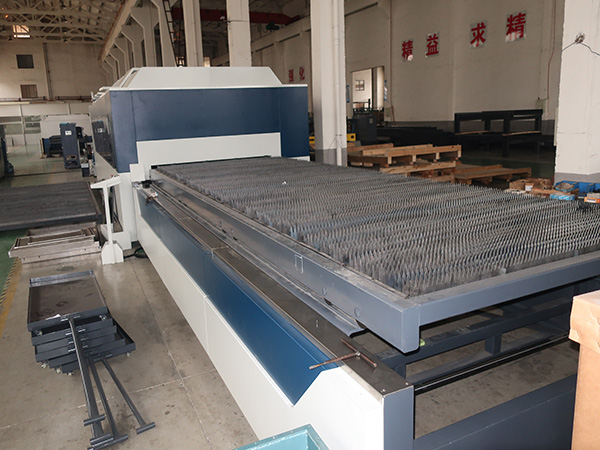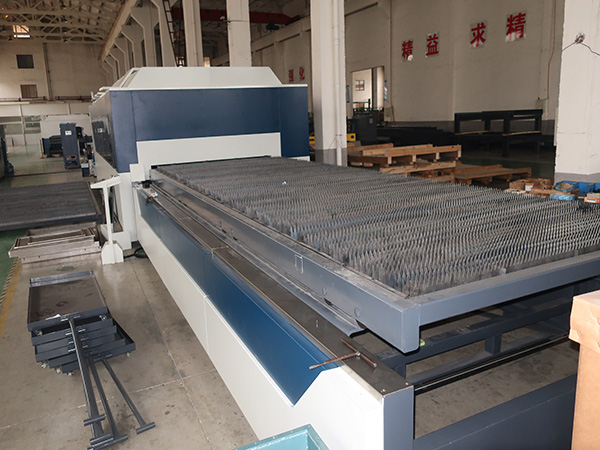 LFH SERIES
---
Sgantry Type Double Drive Fiber Laser Cutting Machine (Exchanged Table),The new closed design, double table fast exchange ,while processing edge cutting, fast,small slit, smooth section, easy operation,low energy consumption,suitable for large quantities of continuous processing, highlighting cutting competitive advantages.
Pîşesaziyên sepandî
Machinery and Equipment / Spare Parts Processing / Auto Parts / Aerospace / Oil Pipeline / Elevator Manufacturing / Sheet Metal Processing
Specifications for LFH-3015/2200W IPG

1. Cutting area(length x width) 3000x1500 mm

2. X axis stoke 3020 mm

3. Y axis stoke 1520 mm

4. Z axis stoke 100 mm

5. X,Y axis position ≤±0.05 mm accuracy

6. X,Y axis repeatability ±0.02 mm

7. Cutting-joint 0.1~0.3 mm As per plate thickness

8. CS cutting thickness 16 mm

9. Cutting Speed 0.5-0.8 m/min

10. SS cutting thickness 8 mm 2000 W

11. Cutting Speed 0.5 - 0.9 m/min

12. Max.carrying weight of table 1200 Kg
L×W×H

11000*3700*2200 mm

Weqfa Machine

7500 kg

Libersekînîn

Laser : 2 years; Consumable Parts: 1 year
Taybetmendiyên sereke
---
The basic principle of laser cutting are : the laser is focused on the material, the material is locally heated to above the meltlingpoint, then blow away the molten metal with a coaxial nozzle high- pressure gas or the metal vapor pressure, with the beam and the material is relatively linear movement so that holes are continuously formed very narrow width of the slit.
In the large format Laser Cutting Machine, the processing height is slightly different parts, so that the surface of the material deviation from local length , so that the spot size is different in different places, the power density os not the same, different quality laser cutting position is inconsistent not reach the laser Cutting Quality requirement.
Pergala Kontrolê
---
Domestic Famous Brand: CYPCUT
From : Shanghai
The control system consists of numerical control systems, PLC and control cabinet.etc.
Pergala kontrola pirjimar
3015 is equipped with international standard CYPCUT CNC control system that guarantees its high stability and reliability, it has following functions:
User-friendly interface with built-in English operating system, greatly enhanced operation efficiency.
AC servo motor and drive: a combination of reliability, quick response and free of maintenance.
Fast-response surface following
Easy-operated cutting-retraction
Straight line/circular arc interpolation fitting and kerf compensation
USB and broadband interface available for data communication
Xizmeta me
---
1.Warranty period: From the acceptance qualified date, the warranty period will be 1 (one) year, but in any case, not more than 18 months after B/L date. Seller is responsible to offer free fittings in these years (except consumable part.) Buyer has to send the damaged fitting to sellers.
After the warranty, we will also provide favorable service of long term technical supports and spares supply to ensure machine's stable and continuous running.
2.The artificial damage in the warranty period and damage after warranty period, Seller offers paid service.
3.The Seller will give 24 hours service support during warranty time, and giving technical guide by email, telephone, Fax for daily maintenance, if need local support, Buyer has to pay for the travel and accommodation & meal cost for the people from seller's side, no labor charge require.
If products are out of warranty and require on site service, Buyer have to pay for the travel and accommodation & meal cost for the people from seller's side, labor charge is require.
4. About the transportation expanses of spare parts will be supported by both parties in the warranty period, like Buyer support the cost of transportation for damage spare part back to supplier; Seller support the new spare part deliver to Buyer.
FAQ
---
1.How çawa makîneyê veguhestin?
-You can find a shipping company.Or we can find one for you and quote you a CIF price.If less than one container,we will choose LCL(less than carload),it will be cost-efficiency .If you purchase more,will find 20",40" or HQ container according to the goods size.
2. Hêza kargeha we çi ye?
-Parêza me ji zêdetirî 500 xebatkarên tachnîkî yên pispor e û piraniya wan di 10 salan de xwedan tecrûbeya çêkirina makînê ne. With digel zêdetirî 120 endezyarên teknîkî yên kevnar. ji me.
3.Qalîteya makîneyê çi ye?
-ADH is a mature brand in China,through our many years research in technology,our design including structure and detailed sercurity and precision has enhanced greatly,and can match all the CE standard,ISO9001:2008 or morestrict standard.And we can allow on-site inspection before purchase.
4.Me we bi pargîdaniyên li welatê me re pargîdaniyek kir?
-Em hilberîner in ku hilberîna me ji gelek welatan derxistiye. Hûn dikarin têkiliya hûrgulî ji personelên me bistînin.
5.KE MOQ an OEM?
-MOQ: 1 est.A O OEM qebûl bikin.
6.Heta dravdanê çi ye?
-T / T (30% dravê pêşîn, dravê mûçeyê dema ku kopiyek B / L dibîne)
-L / C (100% L / C li ber çavê)
---
hilberên makîneya qutkirina lazer
,
dabînkerê makîneya qutkirina laser