Danasîna Hilbera Berfireh
---
Small water Jet cutting machine for metal and marble good service in China
A high pressure water jet cutting machine is a tool which slices into metal and other materials, using a jet of water at high velocity and pressure. With the benefits of low noise, no pollution, high precision, and good reliability, our water jet cutting machine has found many applications in a variety of industries from mining, automobile, paper, and food, to art and architecture, where it is used to cut rubber, foam, plastic, composite, stone, tile, metal, marble, glass, etc.
Cutting Waterjet Cutting:
ACCURL® iningêkirina makîneya Waterjet bi bi zorê ku gihîştina mîqyarek mezin a avê di bin zextê de bi rêgezek piçûk a di nozika qutkirinê de pêk tê. Parzûna ava bilez a ku nozzle hiştin bandor li ser materyalê dike û dest bi pêvajoya birrînê dike. Kerf ji ava leza bilez zehf teng e. Vê gavê ev zext li herêmek piçûk li ser materyalê ku dest bi hilweşandina materyalê dike. Materyalên nermal dikarin bi zexta avê werin qut kirin. Materyalên hişk hewce dike ku karanîna pergalek pêşîn a abrasive, wekî qutkirina metal. Abrasive tête nav pêlika avê ya zexta bilind, ku piştre dest bi jêbirina materyalên hişk dike. Her çend makîneya avî pêvajoya qutkirina herî hêdî e jî, hin avantajên berbiçav hene ku ji bileziya wê mezintir in:
1. Ne Zeviyek Heft-Hebe
2. No Zextên Mekanî
3. Pir narîn Kerf
4. No need for Secondary Operations
Taybetmendiyên sereke
1. Can be transfer the drawing to cutting quickly
2. Quick position-some or few fixing equipments
3. Hing accuracy-reduce the recutting
4. Quicker cutting speed
5. In no need of fabrication for the working parts
6. Safer for the operator and circumstance osteam,dust,smog etc
7. Cool cutting-no heat will be prouduced
8. Clear processing,in no need of clear the working parts again
9. Good cutting finishes-in no need of trimina the cutting finishes again
10. Narrow cutting gap
11. Quick calibration and easier versatility way of cutting. It has been proved that it can be used in mass production in the ideal system
12. Fit for CAD/CAW software
13. Waterjet cutting machine can cut almost all the materials.It can cut the foilat the thickness of 200mm
Sîstem
Pergala Hp: WJPOWER-420 420 (Mîhengên Tevahî Imported)
Max.Pressure: 420Mpa
Max.Flowrate: 3.7L / min
Hêza Elektrîkî: 37KW / 50HP
Voltage: 220V 480V / 50,60HZ.3PH
Meclîsa Intensifier bi tevahî ji Accustream / Hypertherm tête kirin
Xizmeta me
Karûbarê Pêşîn-Firotanê
1.Technical solution.
2. Online video authentication machine work.
3. Cutting samples provided by DHL.
Xizmeta piştî-firotanê
1. Supplier will provide detail manual for software, hardware
and trouble shooting, also supplier should give necessary
guidance online if Buyer need. If it's necessary, Buyer
should send regular his technical staff to Supplier for
technical training.
Wêneyên berbiçav
1. Machine Frame
The MAX series features a body with electric
components built securely into the body of the machine.
This unique monoblock design allows for simple
installation and the flexibility for the system to be relocated to a multitude of locations.
2. Servo Drive & Motor
The imported servo motor (Y-axis driven by two servo motors) along with the sophisticated planetary reducer ensures steady, precise and reliable drive.
3. Ball Screw with Rotary Nut
Precision ball screws feature high reliability and repeatability that increase performance and accuracy.
4. Cutting Heads USA Hypertherm
The IDE head is a single, easy to use piece. The single cuttinghead piece consists of a body, diamond orifice, and mixing chamber. It has a 90 degree inlet that keeps abrasive from building up at the head. It has a flat seal even to the nozzle tube which eliminates risk of breaking the orifice. It is very useful for companies with multiple waterjet operators.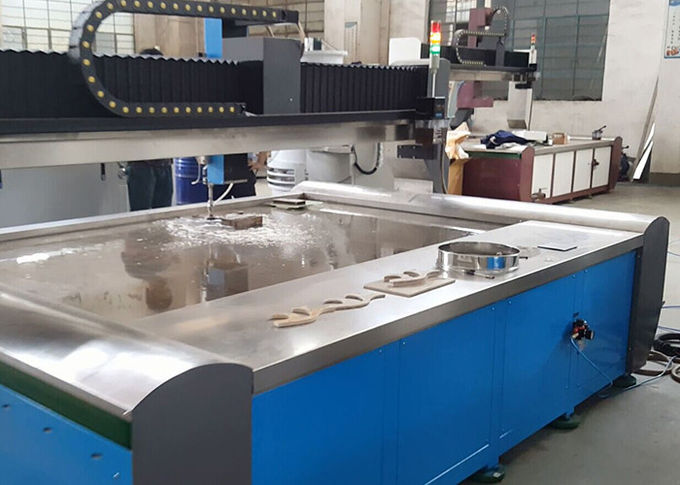 Berçavkirin
Cins
accurl-2010L
maseya xebatê
mm
2000 x 1000
X-ax
stûr
2000
2000
Zûbûnî
0~15
0~15
Y-ax
stûr
1000
1000
Zûbûnî
0~15
0~15
Z-ax
stûr
150-180
150-180
Zûbûnî
0~12
0~12
Rastiya kontrolê
mm
± 0,01
Rastbûna pozîsyonê
mm
± 0.02
Pergala Zexta Bilind
Zexta Max
380
380
Erk
37 (50HP)
37 (50HP)
Hêza tevahî ya elektrîkê
KW
38
Tabara xebatê ya herî giran
Kgs
1000
Format piştgirî kir
AI, PLT, DXF, etc.
Giraniya makîneyê
Kgs
4350
Dimîne li derve
mm
4050x2250x1850
Navê Hilbera
Small Water Jet Cutting Machine
makîneya qutkirina ava hewayê ya zexta bilind
,
makîneya qutkirina şuşika avê
,
makîneya birrîna ava behrê ya avê