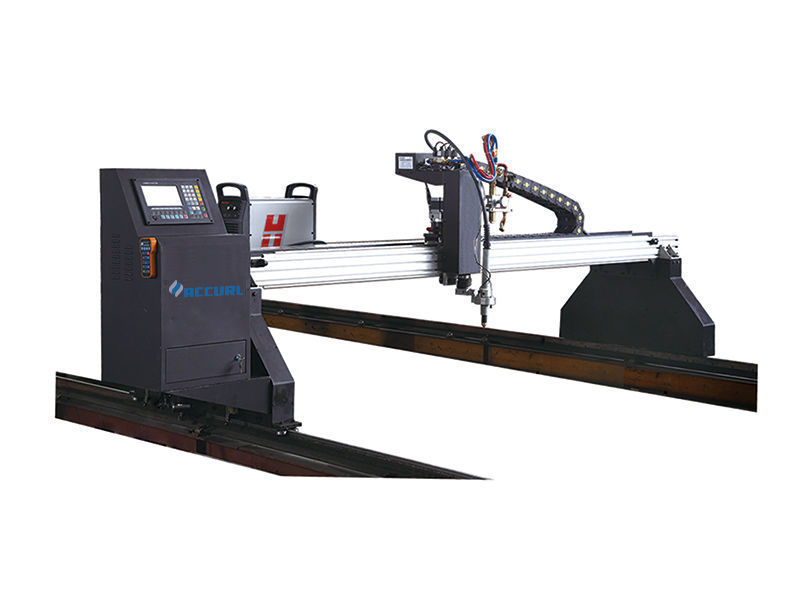 Danasîna Hilbera Berfireh
---
| | | | |
| --- | --- | --- | --- |
| Hejmara Modelê: | GSII-PS2028-PMAX-105A | Hêza Plasma: | Hypertherm Powermax105 USA |
| Tipa Gantry: | Mêz | Navbera birrîna bandor (dirêjî): | 2200 X 28800mm |
| Transverse Effective Cutting: | 800 Shorter Than Track Span | Keywords: | CNC Flame Plasma Cutting Machine |
Accurl brand portable cnc flame/plasma cutting machine from China 2200 x 28800mm
Brief introduction
The ACCURL CNC flame cutting machine is specially designed for metal plate cutting,it is characterized of high automation and efficiency,easy operation and long service time. This CNC plasma and flame cutting machine is gantry structure with double-driven system, working size can be customized upon requirement.It can be used for cutting carbon steel, stainless steel and non-ferrous metal in any 2d graphics,thus is widely used in metal cutting fields.
Host longitudinal rails imported precision dual axis linear guides, horizontal transmission by a precision aluminum extrusions and components, transmission stability, high accuracy Can cut any complex plane figures for oxyfuel flame cutting and plasma cutting machine, free to move, not accounting for fixed venue. Widely used in automotive, shipbuilding, petrochemical, boiler and pressure vessel, engineering machinery, light machinery and other industries, especially for single-piece contoured surface and mass production.
Taybetmendiyên
1. Sêwirana tîrêjê ya tîrêjkirî ya tîrêjkirî bêyî hilweşîna hilweşîna germê baş dide.
2. Tevgerên ajotinê yên gerdûnî yên bêyî gerdûna tevlêbûnê piştrast dikin ku makîneya ku bi leza bilind radiweste.
3. Pergala CNC-ê bi tevahî fonksiyonel û amûra optocoupler bi tevahî kapasîteya antî-jamming ya pergala plasma zêde dike.
4. Pargîdan û cûrbecûrên brandedandî yên herî cîhanê cîhanê jiyanek karûbarê dirêj dirêj dikin.
5. Dabeşkirina pir torpîlan dikare were mîheng kirin. Her du torpîlên flame û plasma vebijarkî ye ku hewcedariyên birrîna materyalên cihêreng di qulikê zirav de derxistin holê.
PIRSNN STANDARD
1. Avakirina valahiya dekompozasyona gazê û pîvana pîvanê çêbikin. Paqij bikin da ku zexta tevahiya makîneyê kontrol bikin.
2. Rêhesina giran-bargiraniyê ya U71 ji hêla makîneyê re çêtir bikin.
3. Li gorî hewcedariya bikarhêner, li ser çenga yeko-ya CNC-ê, pîvana hêza tîrêjê ya tîrêjê, yekîneya stampkirinê, pishta mekanîkî ya plazma an linear biceribînin
torpilkirina sêyemîn a tirşikê, û her weha amûrek xweya xweragir û amûrkerê bilindbûna otomatîk jî rûne.
4. Ji bo ku pez nekeve defterê, ew di avahiya çaremîn a weledkirî de tête sêwirandin, ji bo jêbirin stresê mekanîkî, û piştre ji hêla makîneyên rastîn ve têne damezirandin. , wheel wheel and gear rack with high quality of steel are over the beam têne civandin. Ji ber vê yekê, rastiya tevgera latcral dikare were misoger kirin.
5. Di ragihandina kabloya tracheal a veguhestina jêzêda ya kontrola hêjmarî de tê bikar anîn, ew dikare bi domdarî bê xebitandin û bêhnek mekanîkî çêbike.
6. Ji bo bidestxistina tevgera hevdemî ya du plakaya piştevaniyê ji hêla tixûbê Steel.
THE MAIN CHARACTER
1. High stability and one-time cutting shape process.
2. Adopt new technology for free of maintenance supporting no lubrication, exempt from dust
3. Use South Korea's Samsung industrial level low power core to control the power consumption below 1500W to be environmental protection and energy saving
4. The machine apply HONGYUDA series arc voltage automatic height adjusting device to ensure the advantage or free of maintenance , high precision in height level control and also the reliability of the product. The machine has equipped with POWERMAX 105 plasma cutting electronic power, good in cutting effect, long life in consumptive components and material to prevent the worry for the exchange for the electrode cutting nozzle.
5. Customer-tailored service for the equipment in demand for example alternative for full step drive type or combination drive machine. And also can choose single fire, single plasma or combination with fire and plasma cutting etc.
6. Optional for wireless remote control function to easily control any emergency when the operator is far away from the machine, can control the start, stop, rise, down, forward or backward within 100M.
Wêneyên berbiçav
1. Parçeyên makîneyê
Name: 7-inch color screen CNC cutting system
Brand: JIAODA CNC SYSTEM
Original: Chinaîn
Display:7 inch high resolution 800*480 16000000 color high brightness LCD screen
Memory:64M SDRAM
User space program:256M
400MHZ system clock frequency
USB:USB 1:1interface front
Keyboard:electronic PCB film keyboard or standard industrial keyboard
Case:whole steel structure completely shielded ,can really achieve anti-electro magnetic radiation,anti-static,anti-interference.
2. Taybetmendiyên sereke
Name: Aluminum integral steel rail
Brand: CHD
Original: Chinaîn
Aluminum steel rail which make the machine is more light and less cost.
Effective cutting length up to 11500MM.
3. Machine Parts
Name: Automatic lifting torch
Brand:CHD
Original: Chinaîn
4. Main Features
Name: Plasma torch function interface
Brand: CHD
Original: Chinaîn
Reserved plasma cutting function interface, support for plasma cutting.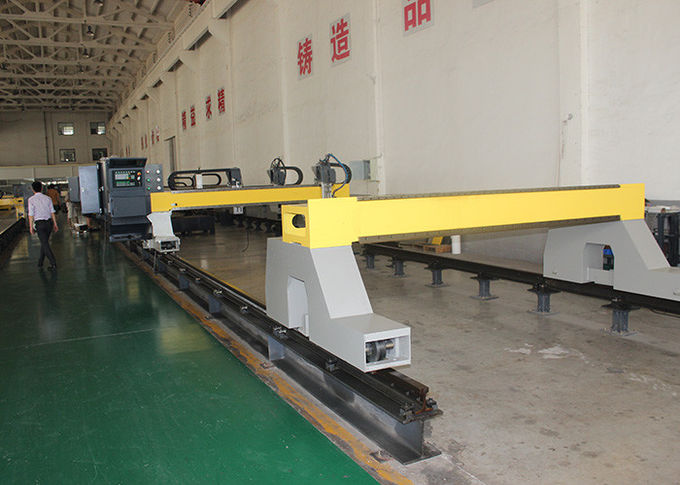 Technical specifications
| | |
| --- | --- |
| Awa | ACCURL PS - 2028 |
| Navê Hilbera | CNC Flame Plasma Cutting Machine |
| Tabloya birrîn | 2200 x 28800 mm |
| Width Machine | 4250 min-1 |
| Lenght Machine | 30200 mm |
| Height Machine | 2200 mm |
| Height Table | 750 mm |
| Width Table | 2200 mm |
| Table Lenght | 27200 mm |
| X Axis Stroke | 2800 mm |
| Y Axayî okeekdar | 28200 mm |
| Pîvan | 25000 kg |
cnc flama makîneya avêtina plasma