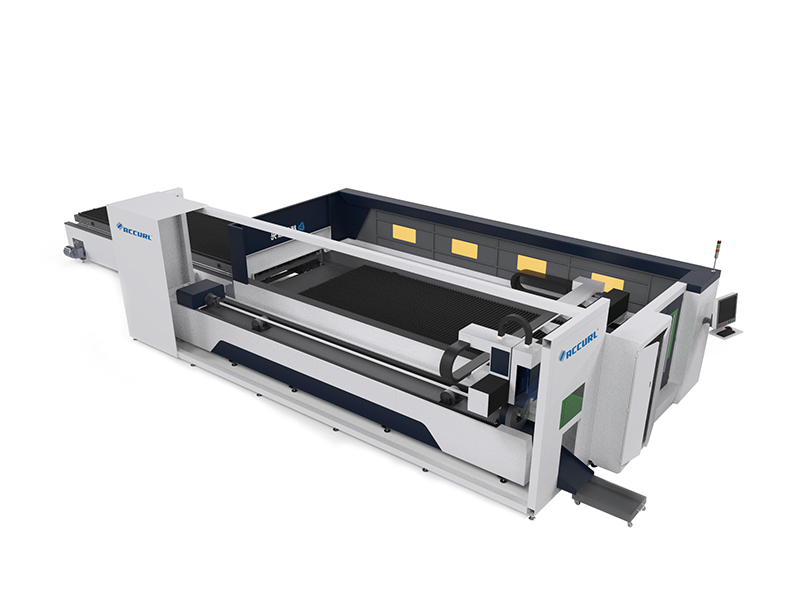 Danasîna Hilbera Berfireh
---
| | | | |
| --- | --- | --- | --- |
| Hejmara Modelê: | ECO-FIBER-1530-6KW ACCURL | Rêjeya Kar: | 1500x3000mm |
| Laser Type: | USA NLIGHT Fiber YLS-6KW | Serê Laser: | Swiss Raytools Auto-jêr |
| Table-driven System: | Japanese Yaskawa Servo Motor & Driving System | Keywords: | Fiber Laser Pipe And Tube Cutting Machine |
6000W CNC Fiber Laser Sheet Metal and Tube / Pipe Cutting Machine Made in China
Accurl's nifşa xwe ya nû di teknolojiya hilberandina tub û profîlan de - pêşkêşî dike Cutting Tube Fiber Laser System. With over 30 years of experience in design and manufacturing experience in tube cutting technology, Accurl is specialized in solutions for the Tube and Pipe industries, and the new Laser Tube Cutting Line is the ultimate solution for joining multiple machining processes in one system for maximum flexibility, automation and performance.
Taybetmendiyên sereke
ACCURL @ Fiber Lasers ji sazûmana we re mesrefek euitive, kêm-domdar, lêçûnek kêm xebitandinê û çareseriya xweş-hawîrdorê dide. Makîneyên me yên lazer ên ἀber peydakirina kalîteyê û toleransê bi kêmbûna hilberîna kêmtirîn di navbera karan de peyda dikin, ku wekheviyek ji veberhênanê re vedigirin.
1. Leza bilezbûnê: 19,6 m / s2 (2G).
2. Leza şirovekirina hevdemî ya berbiçav: 160m / min.
3. Rêzdar: + - - 0,05 mm.
4. Karbidestiya enerjiyê: bi karanîna hêza pir kêm kir.
5. Kêmasiyên birêkûpêk ên hêja yên ji bo kîtikên thic baş û metalên fêkiyê navîn.
6. Resonatorê IPG. Hilberîna hêzê ji 1 kw ji 6 kw.
7. Piercing Sensor.
8. Collection of work pieces and trimmings.
9. Dual proportional valve control system for different gas pressures and special system for high pressure cutting.
PITN STANDARD
1. 3 Axîn (X, Y, Z)
2. Yekîneya kontrolê ya FAGOR 8055 CNC
3. Automatic-Dual Shuttle Table
4. CAD/CAM Software
5. Conveyor
6. Warning Lamp
7. Nozzle Set
8. Nozzle cleaning and height calibration table
P EROZA OPTIONAL
1. Teknolojiya motorê ya xerîdar
2. Vebijarkên çavkaniya laser IPG 0.5 kW, 1 kW, 2 kW, 3 kW, 4 kW û 6 kW.
3. Yekîneya barkirinê.
4. Astenga parastina sivik
5. Pergala piştevanîya çarçovê ya pneumatic ji bo diruşmeya hêsan
Dual Function Fiber Laser Sheet Metal & Tube Cutting Machine Main Features
1. Open design provides easy loading and unloading.
2. Single working table saves space.
3. Drawer style tray makes easy collecting and cleaning for the scraps and small parts.
4. Integrated design provides dual cutting functions for sheet and tube.
5. Gantry double driving structure, high damping bed, good rigidity, high speed and acceleration.
6. The world's leading fiber laser resonator and electronic components to ensure machine superior stability.
Taybetmendiyên hilberê
1. Hêza hilberîna bilind, 500-2000 watt alternatîf e.
2. Dibe ku di dawiya tubê de qada truncation pîvandî qul bike.
3. Can xeta intersection ya xeta şaxê, ku di nav re bi boriya serekî dorpêçkirî ve birijîne, qut bike.
4. Dibe ku tîpên çarçikê qut bikin û qutiya zivirîna 360 deqîqe bikin.
5. Dibe ku holên çaremîn, şikilên cûreyên waist li ser tubes qut bikin.
6. Dibe ku qutiyên grafîkî yên cuda li ser tixûbê çarçikê, tubê oval, tub U û tub rektangular hwd bikin.
Wêneyên berbiçav
1. Parçeyên makîneyê
Nav: Laşê makîneyê
Brand: ACCURL
Original: CHINA
1. çarçoveya gantryê ya domdar karûbarek vekirî peyda dike.
2. Axayên X / Y / Z yên hevdemî: Z-ax dikare 150 mm dimeşîne, ji bo qutkirina gelek cûrbecûrên şaxên metalî.
3. Kîtekîtek dirêjtir û domdariya wê hêsantir dike
2. Conveyor System
Name: Conveyor System
Brand: ACCURL
Original: CHINA
A special hard steel construction conveyor system, standard on our machines, is located under the workspace. The conveyor removes slag and small parts during the cutting process. The operator can choose the movement direction of the conveyor.
3. Taybetmendiyên sereke
Nav: TEKNOLOGIYA SEROK MOTOR SERBEST KIRIN
Brand: YASKAWA
Orjînal: Japonya
1. Accurl xwedan 4 motora servo ye ji bo tevgerên axayî.Ev teknolojiya herî dawî servomotorên kabloyî yên yekane ne.
2. Daneyên hêz û pêvajoyê di kabloya motora seranserê de têne veguhestin, bi girîngî lêçûnên kêm dikin.
3. Ev teknolojî di heman demê de perçeyên jêhatî yên geometrîkî ve jî bêtir qayîmbûnê dide.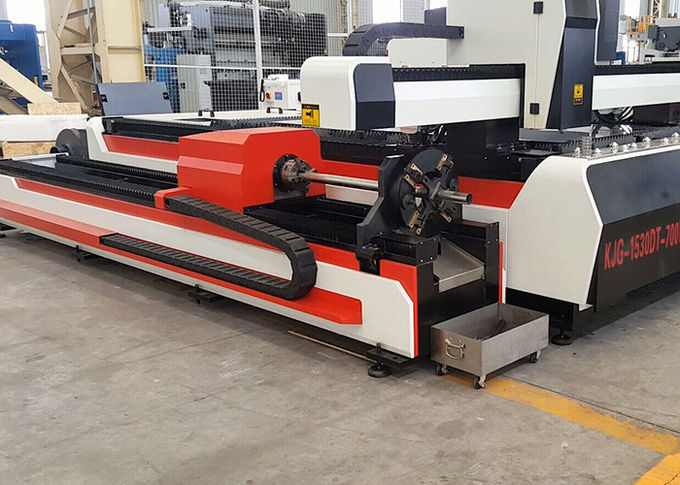 HIYAR
Cins
ECO-FIBER 3015 / 6KW
Yekîneya Kontrolê ya CNC
Pergala FAGOR 8060 CNC
Axe X (Rack & Pinion)
3000 mm
Axa Y (Rack & Pinion)
1500 mm
Ax ax Z
100 mm

Kapasîteya herî zêde ya birrînê

Mild stee
32 mm
Tev stîl
16 mm
Aluminyum
16 mm
Dabeşên kaxezê yên xebatê
1525 x 3050 mm
Rêwîtiya bilez (Ax û X û Y)
105 m / min
Lezdanî
2.5G (25m / s2)
Leza lebatê
148 m / min
Rêzkirina pozîsyona bêkêmasî
± 0,08 mm
Repeatability (ax û X û Y)
± 0,03 mm
Max kapasîteya barkirinê
2450 kg
Pergala CNC-ê ya performansa bilind
FAGOR 8060 ji Brand Brîtanya
Hêza laser
IPG YLS-6 kW from Germany
High Performansa bilind Servo motor / ajotinê
FAGOR ji Brîtanya Spanya
Serê Kêrkirina Laser
PRECITEC ji Almanya
Motorsucer
STOBER ji Almanya
cnc buhayê makîneya qutkirina lazer
,
makîneya qutkirina tubê kat