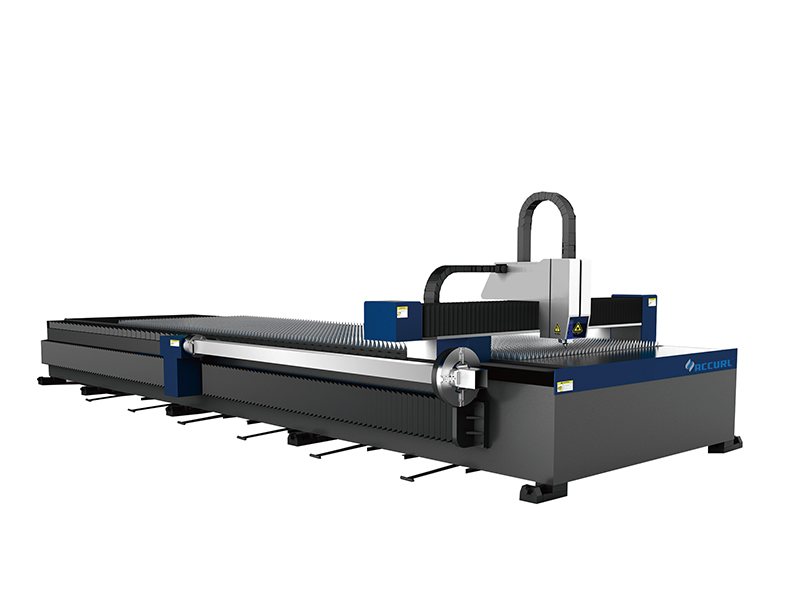 Danasîna Hilbera Berfireh
---
| | | | |
| --- | --- | --- | --- |
| Hejmara Modelê: | KJG-1530DT-500W ACCURL | Rêjeya Kar: | 1500x3000mm |
| Laser Type: | China Raycus Fiber YLS-500w | Rêbernameya Linear: | Taiwan HIWIN |
| Table-driven System: | Japanese Yaskawa Servo Motor & Driving System | Keywords: | CNC Laser Cutting Machine |
Open Type 500W CNC Laser Cutting Machine for 1mm Brass Sheet Metal Cutting Laser Machine
Pêşkêşkirina Product
Tîmê me ACCURL naha nifşa xwe ya nû di teknolojiya hilberîna tîpa û profîlan de destnîşan dike - pergala qutkirina tubê fiber fiber. Nûjeniya teknolojîk me S Series Smart KJG derxistiye. Bi pêbaweriya berbiçav û kalîteya bilind a tîrêjê, makîneyên meya qutkirina lîberê me berdewam in di nav pêşbaziyê de.
PITN STANDARD
• Yekîneya kontrolê ya Cypcut ya Windows CAD / CAM CNC dostane.
• Taybetmendiyên LUnique:
• Karanîna pir hêsan.
• Sazkirina lezgîn û hêsan.
• Veberhênana kêm û lêçûnên kar.
• solutionareseriya herî erzan ji bo her hewceyê.
• Riya tîrêjê ya berbiçav
• Hêza hilberîna bilind
• Qalîteya optîkî ya bilind
• Up to %300 faster cutting
• High wall plug efficiency (>%30)
• Paqij, qehfika birrîna birûskê
• Serî serê birrîna Raytools pêşkeftî (bi teqîna hewayê).
• Pergala rack û pinionê ya performansa bilind û rastbûna bilind.
P EROZA OPTIONAL
• Pergala FAGOR 8055 CNC (motora servo)
• Table Shuttle û Odeya paqij
• Mezinahiya maseyê 1500x4000mm
• Mezinahiya maseyê 2000x4000mm
• Pergala birrîna tubê (φ220mm / 3000mm)
• Serrastkirina serê ji PRECITEC- Manual (500w-1500w)
• USA.IPG / nLIGHT / .în.Raycus Hêza Laser Laser (500w-2kw)
Laser Cutting Machine Better Performance, More Rigid and Durable Construction
A. Top quality components
B. Integrated circuit (professional circuit board)
C. Rigid machine tool and mass loading working
Laser Cutting Machine High Efficiently
A. Travelling speed increases utmost
B. Cutting software functions improved
C. Nesting software optimized cutting patch (can directly read CAD)
Laser Cutting Machine More Safe and Save Labor
A. Machine structure and electric circuit design and assembly conform with CE and FDA
B. Assistant loading system and wireless remote control handle
C. Lubrication system
Laser Cutting Machine More Optimized Technique
A. Different laser cutting heads and optimized nozzle
B. Three gas source and dual-pressure gas route
C. Strong software support
Laser Cutting Machine Higher Precision
A. Fully closed loop controlling system
B. Cutting compensation
C. Top accuracy testing device
Advantages :
1) Qalîteya bezê ya hêja: Parêzgeha hûrgulî ya piçûktir û karbidestiya xebata mezin, kalîteya bilind.
2) Leza birrîna bilind: Leza birrînê ji 20m / min pirtir e
3) Rûniştina domdar: Qebûlkirina lasersên fîberdana jorîn a cîhanê, performansa stabîl, perçeyên sereke dikarin bigihîjin 100,000 demjimêran;
4) High efficiency for photoelectric conversion: Compare with CO2 laser cutting machine, fiber optic laser cut has three times photoelectric conversion efficiency
5) Low cost & Low main tenance: Save energy and protect environment. Photoelectric conversion rate is up to 25-30%. Low electric power consumption, it is only about 20%-30% of traditional CO2 laser cutting machine. Fiber line transmission no need reflect lens, save maintenance cost;
6) Operasyonên hêsan: veguhastina tîrêjê ya fiber, no adaptasyona riya optîkî;
7) Bandorên optîkî yên berbiçav: sêwirana tevlihev, pêdiviyên çêkirina bermayî yên hêsan.
Taybetmendiyên sereke yên CNC Fiber Laser Cutting Machine for Cutting Sheet Metal and Metal Tube
1. A camera is installed inside the protective cover to oversee real-time operation within the cover and shoot any possible problems timely.
2. The machine owns perfect cooling system, lubrication system and dust removal system, which make sure the machine can operate stably,efficiently and durably.
3. There is a casting beam with the machine that makes it more rigid, stable and shockproof.
4. Moşen ji hêla mîhengê xweya otomatîk ve heye ku dirêjtir mijara fokal û kalîteya birêkûpêk a domdar bigire.
5. The machine can be used for cutting a variety of metals with excellent and stable cutting quality.
6. With a specialized CAD / CAM automatic programming software and automatic nesting software, it is possible to maximally g save raw materials.
Materyalên Serîlêdanê:
Amûrên Cuttingê Laser is suitable for metal cutting like Stainless Steel Sheet, Mild Steel Plate, Carbon Steel Sheet, Alloy Steel Plate, Spring steel Sheet, Iron Plate, Galvanized Iron, Galvanized Sheet, Aluminum Plate, Copper Sheet, Brass Sheet, Bronze Plate, Gold Plate, Silver Plate, Titanium Plate, Metal Sheet, Metal Plate, Tubes and Pipes, etc.
Pîşesaziyên serîlêdanê:
Machines Cutting Fiber-Laser are widely used in manufacture Billboard, Advertising, Signs, Signage, Metal Letters, LED Letters, Kitchen Ware, Advertising Letters, Sheet Metal Processing, Metals Components and Parts, Ironware, Chassis, Racks & Cabinets Processing, Metal crafts, metal art ware, elevator panel cutting, hardware, auto parts, Glasses Frame, Electronic Parts, Nameplates, etc.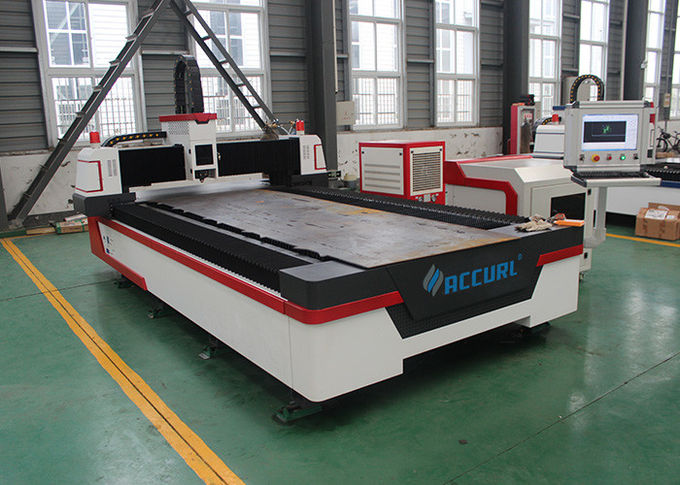 Techincal Parameter
Cins
KJG-1530 / IPG 500w
Kapasîteya herî zêde ya birrînê
Pêlika nerm
6mm
Tev stîl
2.5mm
Aluminyum
2mm
Sifir
1mm
Hêza Laser
YLR-500Watt
Leza leza herî zêde
40 / min
Dabeşên kaxezê yên xebatê
1500 x 3000mm
Rêwîtiya bilez (Ax û X û Y)
105 m / min
Lezdanî
1.2G (12m / s2)
Rêzkirina pozîsyona bêkêmasî
± 0,03 mm
Max kapasîteya barkirinê
1550 kg
Umeîpkerê Fume
1000 m3 / saet
Serê Kêrkirina Laser
RayTools BM110 ji Swîsre
Rêjeya Feed
Bernameya heta 30 m / min.
Materyalên Destûrdar
Bijara nermîn a nermîn, Zengilek zexm, Aluminium, Paqijkerê baker
cnc buhayê makîneya qutkirina lazer
,
makîneya qerase ya qerase