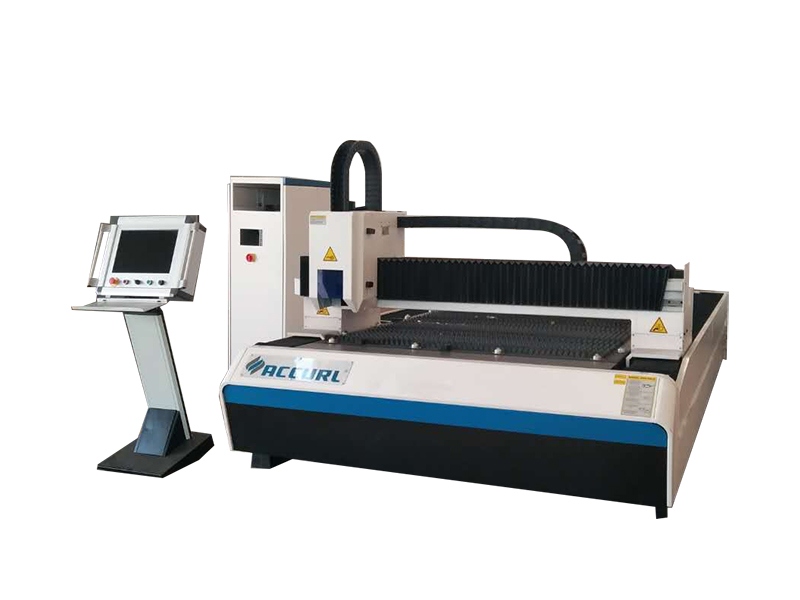 Danasîna Hilbera Berfireh
---
| | | | |
| --- | --- | --- | --- |
| Hejmara Modelê: | KJG-1530DT-700W ACCURL | Rêjeya Kar: | 1500x3000mm |
| Laser Type: | USA NLIGHT Fiber YLS-700w | Redkirina Gear: | MOTOREDUCER fransî |
| Dezgeh: | Taiwan YYC Gear R Rack | Keywords: | Laser Cutting Machine For Sale |
Accurl Band Laser Cutting Machine 700W for 2.5mm Aluminum Alloys for Sale
Pêşkêşkirina Product
Tîmê me ACCURL naha nifşa xwe ya nû di teknolojiya hilberîna tîpa û profîlan de destnîşan dike - pergala qutkirina tubê fiber fiber. Nûjeniya teknolojîk me S Series Smart KJG derxistiye. Bi pêbaweriya berbiçav û kalîteya bilind a tîrêjê, makîneyên meya qutkirina lîberê me berdewam in di nav pêşbaziyê de.
Accurl @ Fiber Lasers ji sazûmana we re mesrefek berbiçav, kêm-domdar, lêçûnek kêm xebitandinê, çareseriya hevalek hawirdorê digirin. Em makîneyek radigihînin ku bi qutbûna hilberîna piçûktir di navbera karan de, birêkûpêkkirina veberhênanê û toleransê peyda dike. Li gorî van pîvanê makîneyên qutkirina lîberê me têne pêşxistin û firotin.
PITN STANDARD
• Yekîneya kontrolê ya Cypcut ya Windows CAD / CAM CNC dostane.
• Taybetmendiyên LUnique:
• Karanîna pir hêsan.
• Sazkirina lezgîn û hêsan.
• Veberhênana kêm û lêçûnên kar.
• solutionareseriya herî erzan ji bo her hewceyê.
• Riya tîrêjê ya berbiçav
• Hêza hilberîna bilind
• Qalîteya optîkî ya bilind
• Up to %300 faster cutting
• High wall plug efficiency (>%30)
• Paqij, qehfika birrîna birûskê
• Serî serê birrîna Raytools pêşkeftî (bi teqîna hewayê).
• Pergala rack û pinionê ya performansa bilind û rastbûna bilind.
P EROZA OPTIONAL
• Pergala FAGOR 8055 CNC (motora servo)
• Table Shuttle û Odeya paqij
• Mezinahiya maseyê 1500x4000mm
• Mezinahiya maseyê 2000x4000mm
• Pergala birrîna tubê (φ220mm / 3000mm)
• Serrastkirina serê ji PRECITEC- Manual (500w-1500w)
• USA.IPG / nLIGHT / .în.Raycus Hêza Laser Laser (500w-2kw)
Pakkirin & Delivery
1. Doza me ya darîn piştî dermankirina mestir e.Me ne tixûbê dar, ji dema barkirinê xilas dike.
2. Hemî perçeyên bermayî yên makîneyê ji hêla hin materyalên nerm ve dihatin vegirtin, bi gelemperî ji mûzek mûzîkî tê bikar anîn.
3. Ya herî pir doza çîçek bi kaxezên pêgirtî ye.
4. Li ser doza darikê jûreyek hebek hişk e, bi Handling û veguhestinê rehet.
OPTIONAL FIBER LASER POWER
USA.IPG Fiber Laser Power
China.Raycus Fiber Laser Power
USA.nLIGHT Fiber Laser Power
Advantages :
1) Qalîteya bezê ya hêja: Parêzgeha hûrgulî ya piçûktir û karbidestiya xebata mezin, kalîteya bilind.
2) Leza birrîna bilind: Leza birrînê ji 20m / min pirtir e
3) Rûniştina domdar: Qebûlkirina lasersên fîberdana jorîn a cîhanê, performansa stabîl, perçeyên sereke dikarin bigihîjin 100,000 demjimêran;
4) High efficiency for photoelectric conversion: Compare with CO2 laser cutting machine, fiber optic laser cut has three times photoelectric conversion efficiency
5) Low cost & Low main tenance: Save energy and protect environment. Photoelectric conversion rate is up to 25-30%. Low electric power consumption, it is only about 20%-30% of traditional CO2 laser cutting machine. Fiber line transmission no need reflect lens, save maintenance cost;
6) Operasyonên hêsan: veguhastina tîrêjê ya fiber, no adaptasyona riya optîkî;
7) Bandorên optîkî yên berbiçav: sêwirana tevlihev, pêdiviyên çêkirina bermayî yên hêsan.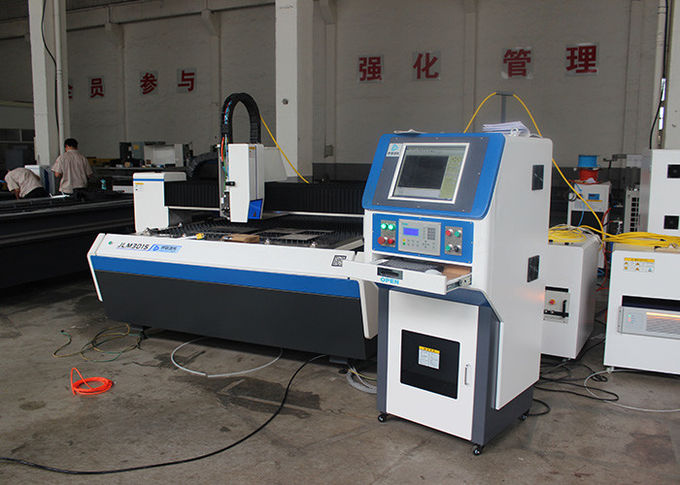 Techincal Parameter
Cins
KJG-1530 / IPG 700w
Kapasîteya herî zêde ya birrînê
Pêlika nerm
8mm
Tev stîl
3mm
Aluminyum
2.5mm
Sifir
1.5mm
Hêza Laser
YLR-700Watt
Leza leza herî zêde
40 / min
Dabeşên kaxezê yên xebatê
1500 x 3000mm
Rêwîtiya bilez (Ax û X û Y)
105 m / min
Lezdanî
1.2G (12m / s2)
Rêzkirina pozîsyona bêkêmasî
± 0,03 mm
Max kapasîteya barkirinê
1550 kg
Umeîpkerê Fume
1000 m3 / saet
Serê Kêrkirina Laser
RayTools BM110 ji Swîsre
Rêjeya Feed
Bernameya heta 30 m / min.
Materyalên Destûrdar
Bijara nermîn a nermîn, Zengilek zexm, Aluminium, Paqijkerê baker
makîneya qerase ya qerase