Danasîna Hilbera Berfireh
---
| | | | |
| --- | --- | --- | --- |
| Hejmara Modelê: | ECO-FIBER-1530-2KW ACCURL | Rêjeya Kar: | 1500x3000mm |
| Laser Type: | USA IPG Fiber YLS-2KW | Rêbernameya Linear: | Taiwan HIWIN |
| Total Power Consumption: | Accurl Laser Professional Laser Cutting Software | Keywords: | Tube Laser Cutting Machine |
2000W Tube Laser Cutting Machine for Sheet Metal and Tube of Carbon steel 16mm
Danasîna hilberê
Accurl @ Fiber Lasers ji sazûmana we re mesrefek berbiçav, kêm-domdar, lêçûnek kêm xebitandinê, çareseriya hevalek hawirdorê digirin. Em makîneyek radigihînin ku bi qutbûna hilberîna piçûktir di navbera karan de, birêkûpêkkirina veberhênanê û toleransê peyda dike. Li gorî van pîvanê makîneyên qutkirina lîberê me têne pêşxistin û firotin.
1. Manufactured by people who use their own machines.
2. The resonator comes with a 100,000 hour warranty from the manufacturer (IPG)
3. Higher cutting speeds possible
4. Dual interchangeable tables allow for faster loading and unloading, reducing downtime
5. Laser wavelength is one-tenth of a CO2 laser
6. Reduction in cutting variables or tribal knowledge
7. Fiber Laser is extremely efficient, equates to very low power consumption
8. Low cost of operation, energy cost reduced, no laser gases requied to produce beam
9. High cutting flexibility (Steel, Stainless Steel, Brass, Copper, Titanium, Aluminum, and more)
10. Created and tested in a 100,000 sq ft Research and Development facility operating 9 metal cutting fiber Lasers, cutting 24/7.
Fiber Laser Tube Cutting Machine Features
1. Capacity up to O.D. 152 mm
2. Cutting Lengths up to 2000mm or 3000mm (longer lengths by request)
3. Wall thickness from 0.6 - 6.0mm (Mild Steel)
4. Automatic Bundle Loading System with Material Alignment
5. Automatic Unloading System with Conveyor
6. Equipped with 1.0 kW (Standard) or 2.0 kW (Optional) Laser Resonator
7. Multi-Axis CNC Controls with Touch Screen Interface
8. SOCO CAD-CAM system for Tubes and Profiles with built-in Nesting
9. SOCO i2 ( Intelligent interface) 3D operation software
PITN STANDARD
1. 3 Axîn (X, Y, Z)
2. Yekîneya kontrolê ya FAGOR 8055 CNC
3. Servo Motor
4. Otomat - serê dravdana balê
5. .avkaniya Laser
6. Yekîneya illiller
7. Pergala hewayê paqij-zirav
8. Kantona ewlehiyê
9. Tabloya Shuttle otomatîk-Dual
10. CAD/CAM Software
11. Conveyor
12. Warning Lamp
13. Nozzle Set
14. Nozzle cleaning and height calibration table
P EROZA OPTIONAL
1. Teknolojiya motorê ya xerîdar
2. Vebijarkên çavkaniya laser IPG 0.5 kW, 1 kW, 2 kW, 3 kW, 4 kW û 6 kW.
3. Yekîneya barkirinê.
4. Astenga parastina sivik
5. Pergala piştevanîya çarçovê ya pneumatic ji bo diruşmeya hêsan
Avakirina Standard
1. TABELA KIRIN
Pergala maseya qulkirinê ya dual ji bo karkirina xweya xebata we tête çêkirin û dema ku hûn li ser danasîn û rakirina materyalan hatine kêm kirin tête çêkirin. Leza guheztina sifra birrîn dikare li gorî pîvana materyalan were sererast kirin.
2. P CROZA NAZZLE
Bi domdarî paqij û paqijkirina makîneya xwe rakirina girîng e. Paqijkerê meya nozikê alîkariya me dike ku jiyanê nozikên we baştir bikin da ku qutiyên we bi domdarî, dirêjtir bimînin.
Serlêdana Hilberê
1. Qadên sepandî
Ji bo qutkirina bilez a li ser plakayên cûda yên metal an tubên mîna S / S, zincîra karbonê, çaroxa galvanized, plakaya elektrolîtîk, plakaya aluminium, Steel, brass, plakaya alloy, metalên rind û materyalên din;
2. Bi berfirehî tê bikar anîn
Di amûrên metbexê de, qutiya kontrolê ya elektrîkê, amûrê bi xilaskirina bilind, alavên mekanîkî, alavên elektrîkê, ronahîkirin, poster, parçeyên auto, amûrên xuyangê, pîşesaziya zirav û metalan tê bikar anîn.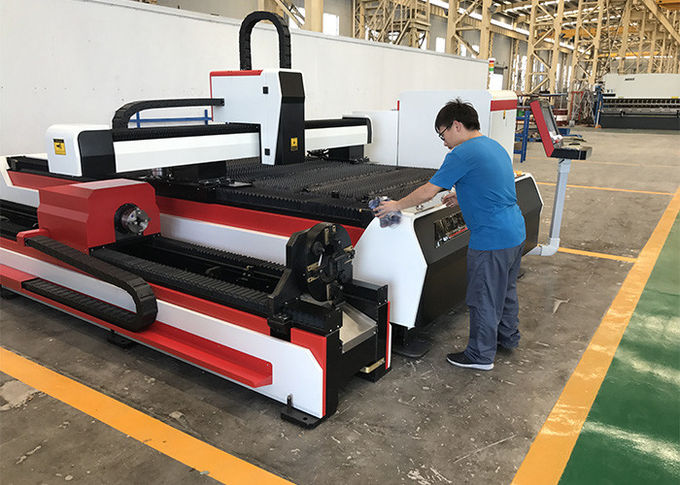 HIYAR
Cins
ECO-FIBER 3015 / 2KW
Yekîneya Kontrolê ya CNC
Pergala FAGOR 8060 CNC
Axe X (Rack & Pinion)
3000 mm
Axa Y (Rack & Pinion)
1500 mm
Ax ax Z
100 mm

Kapasîteya herî zêde ya birrînê

Pêlika nerm
16 mm
Tev stîl
8 mm
Aluminyum
6 mm
Dabeşên kaxezê yên xebatê
1525 x 3050 mm
Rêwîtiya bilez (Ax û X û Y)
105 m / min
Lezdanî
2.5G (25m / s2)
Leza lebatê
148 m / min
Rêzkirina pozîsyona bêkêmasî
± 0,08 mm
Repeatability (ax û X û Y)
± 0,03 mm
Max kapasîteya barkirinê
2450 kg
Pergala CNC-ê ya performansa bilind
FAGOR 8060 ji Brand Brîtanya
Hêza laser
IPG YLS-2 kW ji Almanya
High Performansa bilind Servo motor / ajotinê
FAGOR ji Brîtanya Spanya
Serê Kêrkirina Laser
PRECITEC ji Almanya
Motorsucer
STOBER ji Almanya
makîneya barkirina lazer a cnc pîşesazî